COMET-Programme
BEST is working on the scientific and technological basis for processes which use biomass and waste to produce heat, electricity, gaseous and liquid energy carriers and sources, and basic materials for the chemical industry. The company also carries out research on the joint use of bioenergy and other renewable energy supply technologies as a means of providing efficient, sustainable and economic solutions for the energy system of the future.
The competence center BEST - Bioenergy and Sustainable Technologies GmbH is funded by BMK, BMDW and the federal states Vienna, Lower Austria und Styria within the scope of COMET - Competence Centers for Excellent Technologies. The program COMET is managed by the FFG.
The strategic objectives of COMET are: developing new expertise by initiating and supporting long-term research co-operations between science and industry in top-level research, and extablishing and securing the technological leadership of companies. By advancing and bundling exting strengths and by integrating international research expertise Austria is to be strengthened as a research location for the long term.
MODULAR CO-λ-CONTROL FOR BIOMASS BOILERS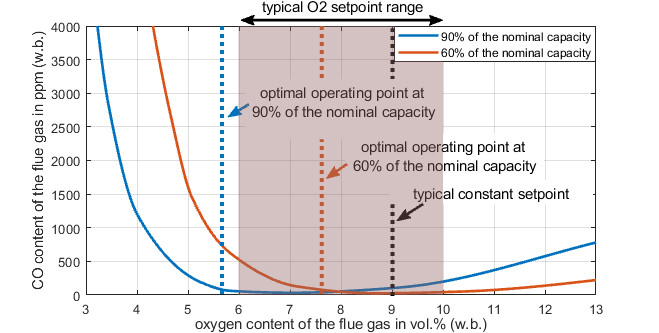 The application of an innovative control strategy for biomass boilers ensures savings in fuel and pollutant emissions.
The combustion of wood is considered to be largely CO2-neutral. For this reason, the utilization of biomass boilers can make a particularly large contribution to reducing greenhouse gas emissions. Biomass boilers therefore play an important role in achieving the climate targets. However, this requires a high combustion quality, i.e. the combustion of wood needs to be as complete as possible. An incomplete combustion leads to increased pollutant emissions, for example particulate matter or carbon monoxide, which places an unnecessary burden on the environment. An incomplete combustion is mainly caused by fluctuating fuel quality (type of wood or moisture content) but also by a sub-optimal operation of the biomass boiler.
In an effort to ensure an optimal operation of biomass boilers, the COMET competence center BEST - Bioenergy and Sustainable Technologies GmbH (formerly Bioenergy 2020+ GmbH) and the company LAMTEC Meß- und Regeltechnik für Feuerungen GmbH & Co. KG jointly developed a method for optimizing the combustion quality in biomass boilers, the modular CO-l-control. It monitors the combustion quality in real time with the aid of an innovative O2/COe probe and ensures that the biomass boiler is always operated with an optimal oxygen content, which minimizes the pollutant emissions and increases the boiler efficiency. As a result, despite fluctuating fuel quality and even under varying operating conditions, the combustion process is always guaranteed to be as complete as possible while the fuel consumption is simultaneously reduced.
The application of the modular CO-λ-control also aovids typical problems associated with an incomplete combustion, such as increased depositions formation and fouling of the heat exchanger, thus saving operating costs. The simultaneous reduction in fuel consumption by typically 2-4% also leads to significant savings in fuel costs.
Impact and effects
A long-term validation of the modular CO-l-control was carried out over an entire heating season at a wood chip boiler (nominal output: 2.5 MWth) in a biomass heating plant in Fuschl am See (operational management by s.nahwärme.at Energiecontracting GmbH).
The result: fuel consumption was reduced by just under 4%. At the same time, dust emissions after the biomass boiler were reduced by almost 20%. In addition, carbon monoxide emissions were also significantly reduced.
By now, the modular CO-λ-control has already been applied at three biomass boilers and has always led to a significant improvement in plant operation.
Prospects for the future: If the modular CO-λ-control were to be used at every heating plant in Austria, it would save about 70 000 tons equivalent to almost 100 000 tons of CO2 emissions per year. Moreover, the wood saved would be available for other applications.
Partner
LAMTEC Meß- und Regeltechnik für Feuerungen GmbH & Co. KG, Deutschland
s.nahwaerme.at Energiecontracting GmbH, Österreich
Aigner Energie Contracting GmbH, Österreich
TIWAG-Tiroler Wasserkraft AG, Österreich
---