Highlights of the BIOFIT project
The 7th progress meeting of the BIOFIT project was held on October 19th and 20th, 2021. The BIOFIT project has started in 2018 and will support and initiate bioenergy retrofitting opportunities in five industry sectors, namely first-generation biofuels, pulp & paper, fossil refineries, fossil firing power and Combined Heat and Power (CHP) plants.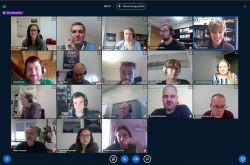 Among the results presented at the project meeting, were the following highlights:
As a virtual business mission to Ukraine, the webinar "Biomethane: transfer of technologies, policies and best practices from European experience" was held, together with the Bioenergy Association of Ukraine, on 10th November, 2021. The main goal of the webinar was to promote cooperation and exchange between European industry and private sector players with stakeholders from research, industry and the public sector in Ukraine.
Five sectoral recommendation papers were published on the BIOFIT Website, which can be downloaded here.
A peer-reviewed publication on public acceptance (Driving public acceptance (instead of skepticism) of technologies enabling bioenergy production: A corporate social responsibility perspective) was published by colleagues from the BIOFIT partner Wageningen Economic Research.
The first interactive digital support tool on conversion of fossil oil boilers to the utilization of bio-oil was published on the BIOFIT website. Further tools on the other sectors will be published soon and can be found here. The tools are based on the case study results and the user interface allows modification of the key parameters of the retrofit concept
A final Policy Conference and Workshop is planned for January 18th to 20th, 2022. This event will include four online industry sessions (first-generation biofuels, pulp & paper, fossil refineries, fossil firing power & CHP) and a policy breakfast in Brussels.
This project has received funding from the European Union's Horizon 2020 research and innovation programme under grant agreement No 81799
2021-11-04